This year, friends are invited to support Shakespeare and Company by purchasing a limited-edition Hunchback of Notre-Dame Bundle from the bookshop's newly revamped website. All revenues will go to the Association.
For 55€ (plus shipping), readers will receive:
A copy of Shakespeare and Company's 2022 edition of The Hunchback of Notre-Dame, inked with the bookshop stamp. Produced in collaboration with Penguin Classics, the paperback has a gatefold cover, with original artwork and metallic-ink details, and a new introduction penned by the bookshop's editors.
A limited-edition print of the cover illustration, hand-signed by its brilliant artist, Neil Gower, and stamped on the back with the bookshop's hallmark and the date. The print measures 37cm by 26cm (14.5" by 10.2") and was printed on 320g stock by Art & Caractère in Lavaur, France.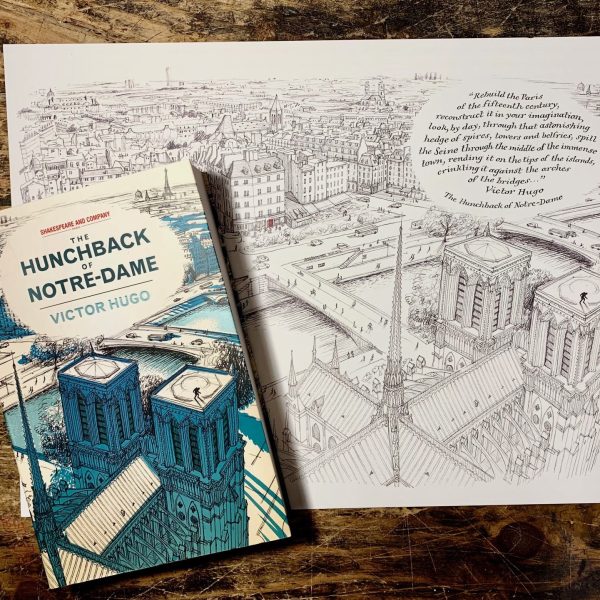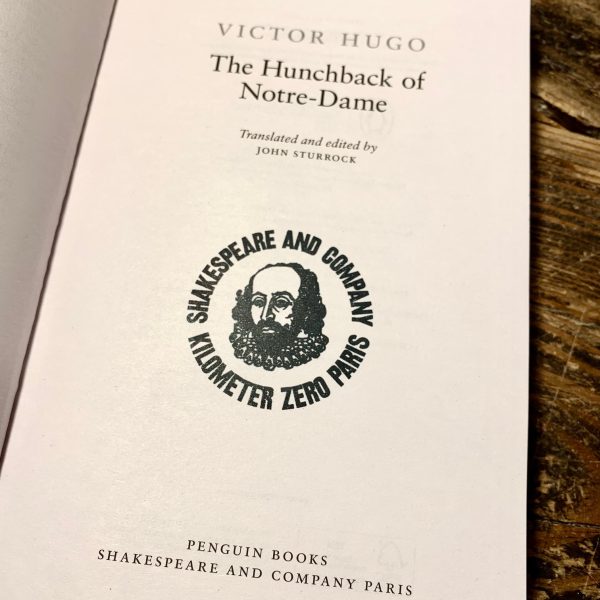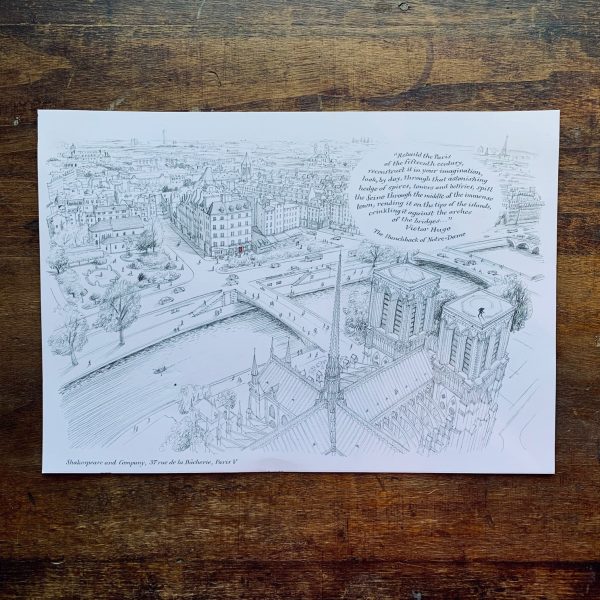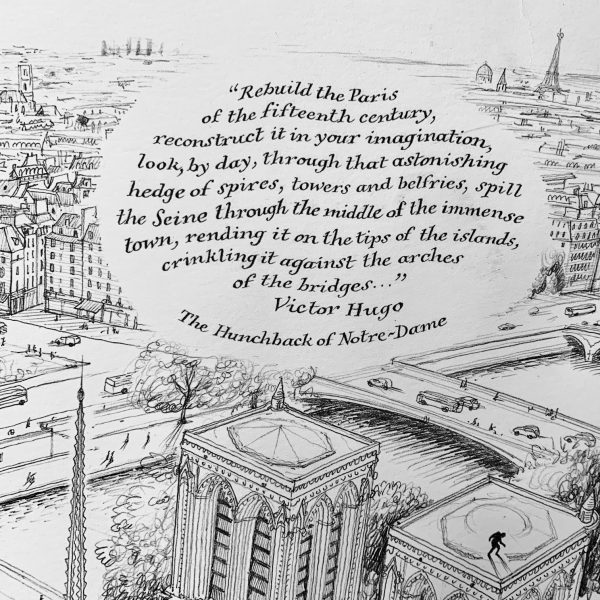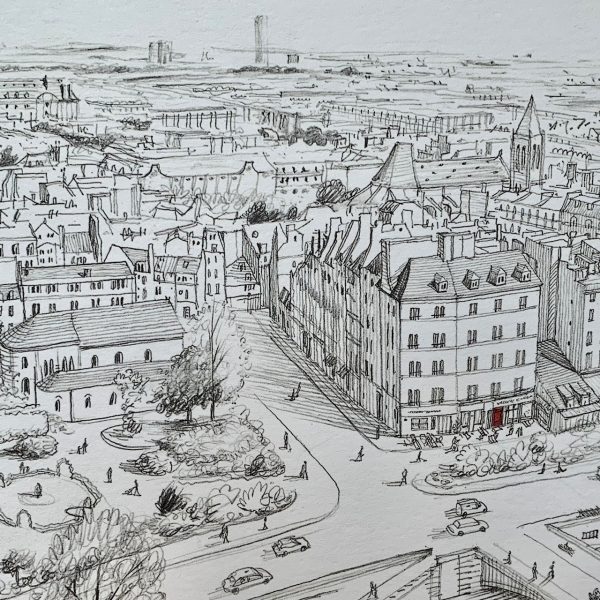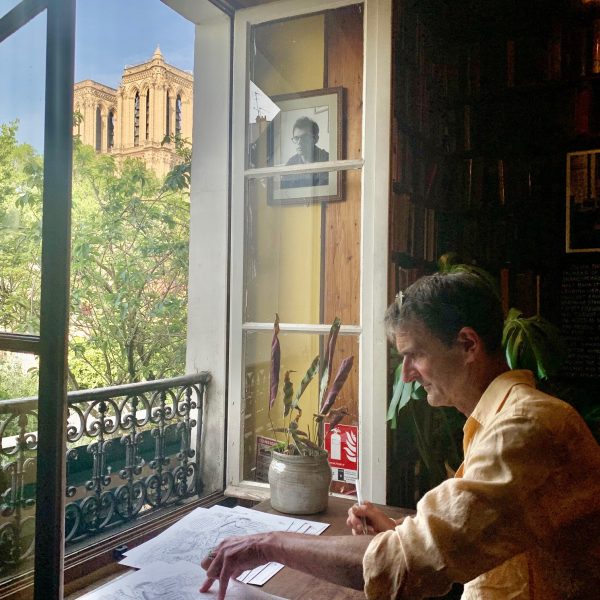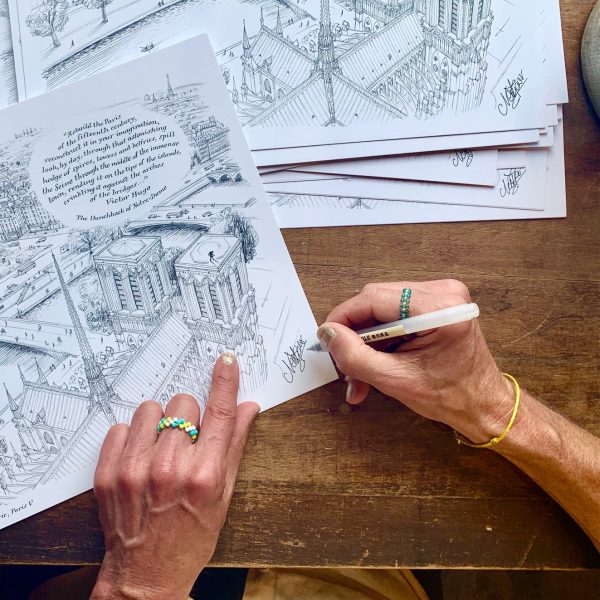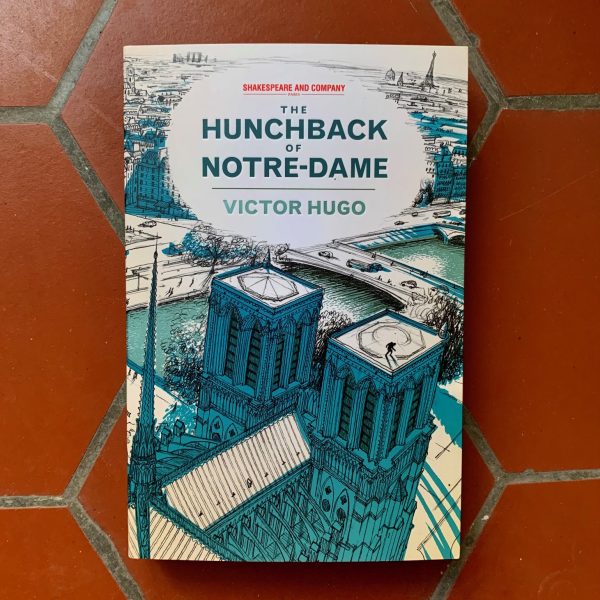 Two quick notes:
For previous FOSC members, you'll need to create a new account and password on the bookshop's e-commerce website. The ones you used last year to access FOSC's online content cannot be automatically transferred over.
It's not possible to purchase the book and print separately on the website—we're afraid we cannot make exceptions.
Thank you for considering supporting the bookshop by purchasing a Hunchback of Notre-Dame Bundle !
Friends of Shakespeare and Company, 2020 – 2021 
Thanks to the support of Friends of Shakespeare and Company, a nonprofit association, the bookshop has been able to continue its role as a cultural platform, bringing together writers and readers both here in Paris and around the world—a role that had been seriously threatened by the pandemic and its financial fallout.
Thank you exceedingly to everyone who participated in the Association's 2020 – 2021 program! Your support has been a great comfort to us, both financially and spiritually. Read on to find more information about the effects of your generous contributions.
Reading Library
The upstairs Reading Library has long been a noncommercial space, where visitors can attend writing workshops, participate in reading groups, or while away an entire day with books plucked from the Library shelves. Funds raised by FOSC have contributed to allowing this space to remain open to the public as a haven for reading and discussion.
Tumbleweeds
Since 1951, more than 30,000 young writers, artists, and intellectuals have found a free bed in the center of Paris, here at Shakespeare and Company, thanks to our Tumbleweed program—so called for the literary vagabonds who "drift in and out of the bookstore on the winds of chance." The pandemic, along with ongoing building works, put a temporary stop to the program, but thanks to the support of Friends of Shakespeare and Company, it will begin again in 2023.

Author Events and Visits
Visiting writers have always been an important part of life at Shakespeare and Company, whether they're here for an event or simply in search of a retreat to work on a manuscript. The pandemic brought a halt to our regular in-store events program, and financial limitations meant that we had to give up a flat that had been reserved for visiting writers. But thanks to the support of Friends of Shakespeare and Company, we were able to re-imagine these activities: The in-store events shifted to remote events, still with some of today's most compelling authors and artists. These were made available both through the Friends of Shakespeare and Company quarterly installments and through our weekly free podcast series. We've featured interviews with Ali Smith, Douglas Stuart, Natalie Portman, George Saunders, Olivia Laing, Rob Doyle, and Bonnie Greer. In addition, we've recently been able to open a new writer's room, just round the corner from the bookshop, and have already hosted more than a dozen writers and artists for free.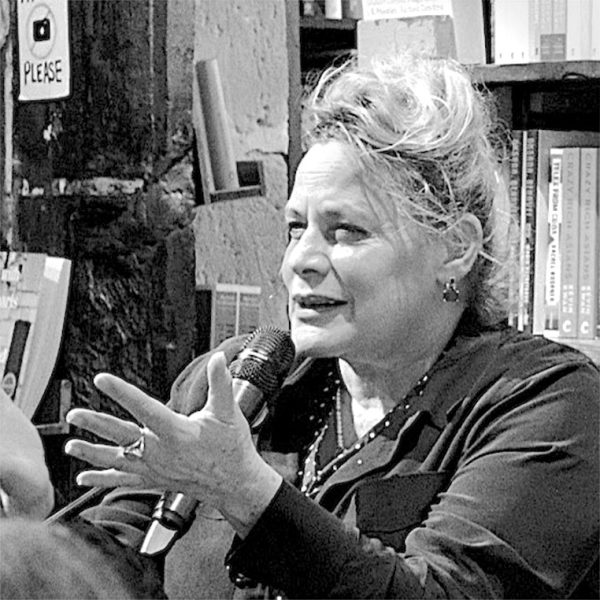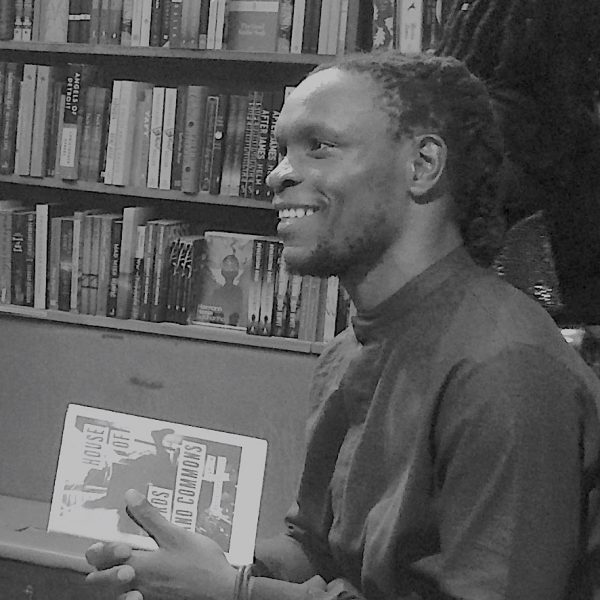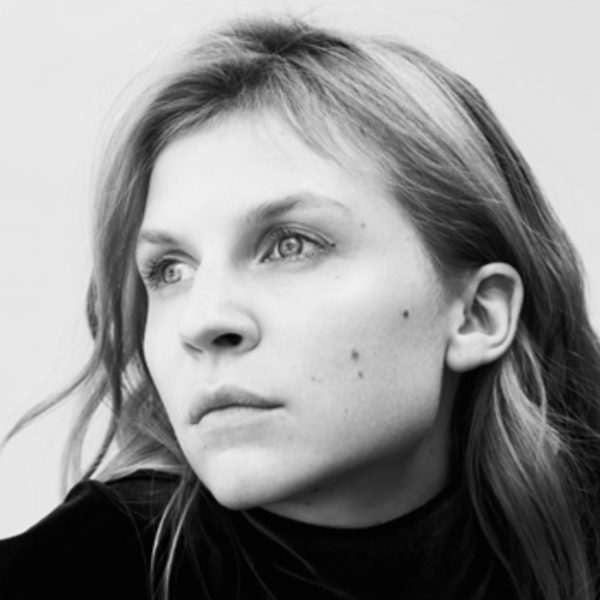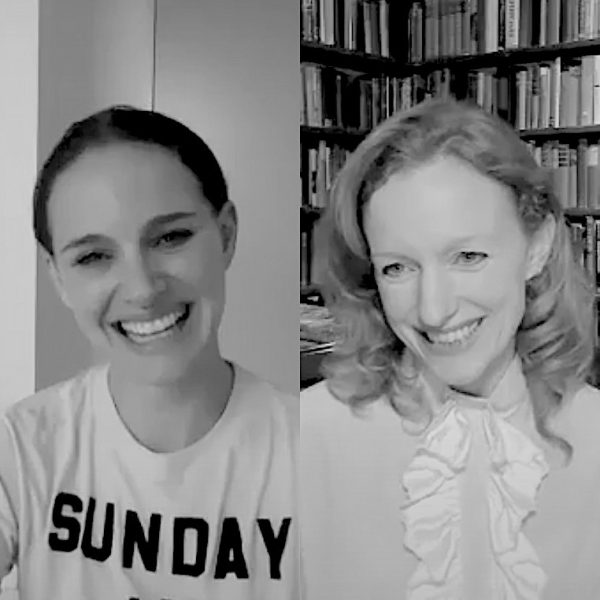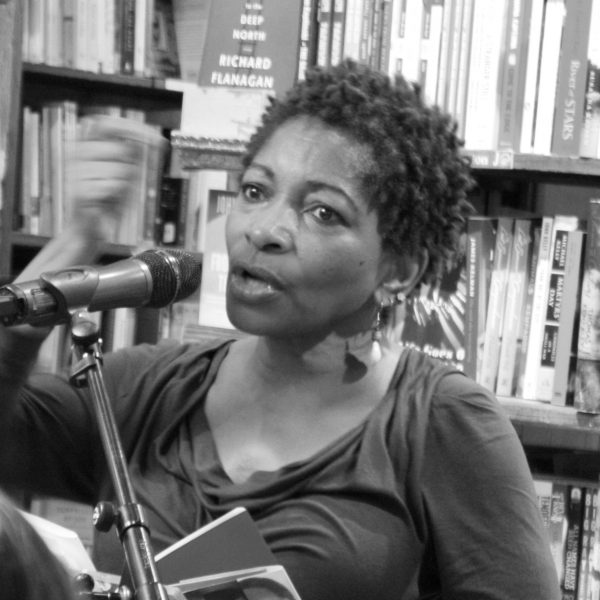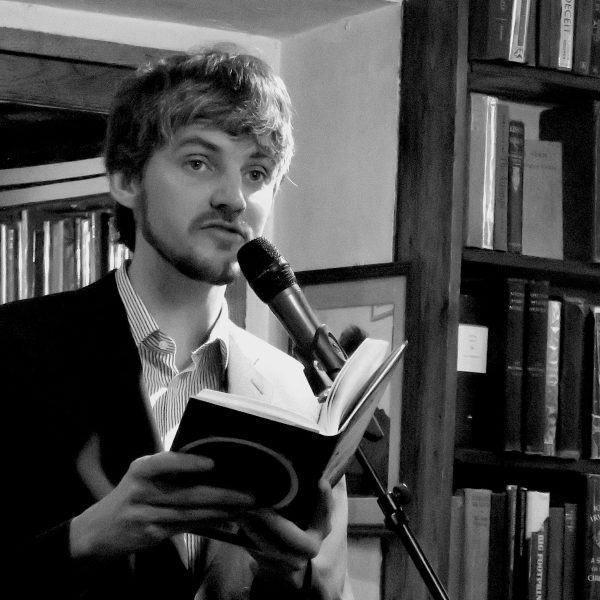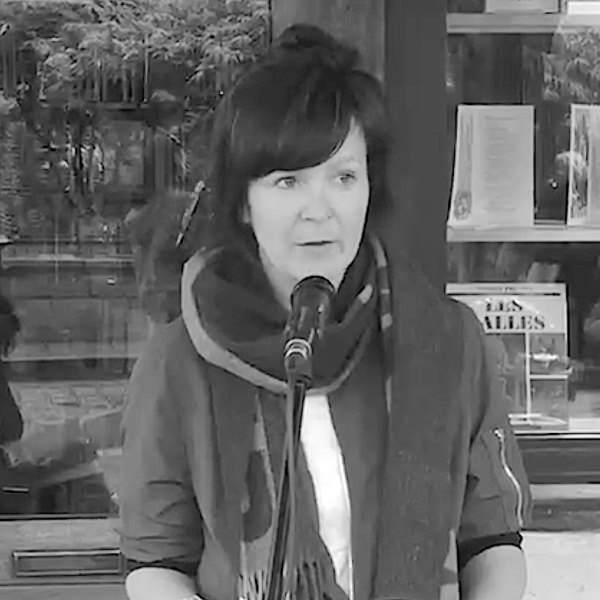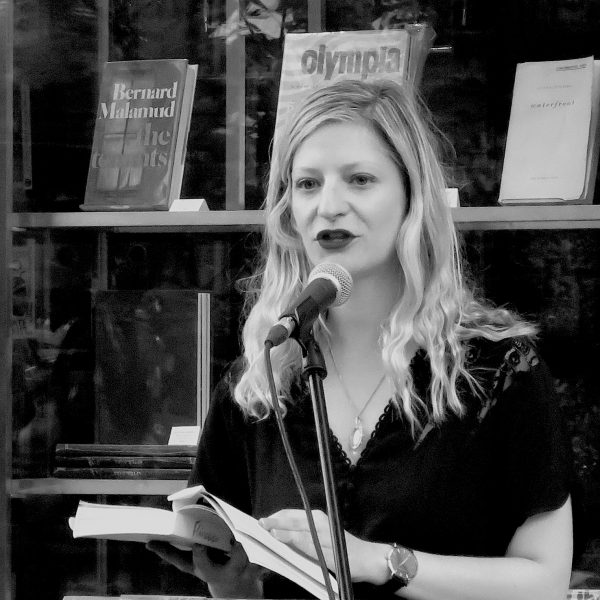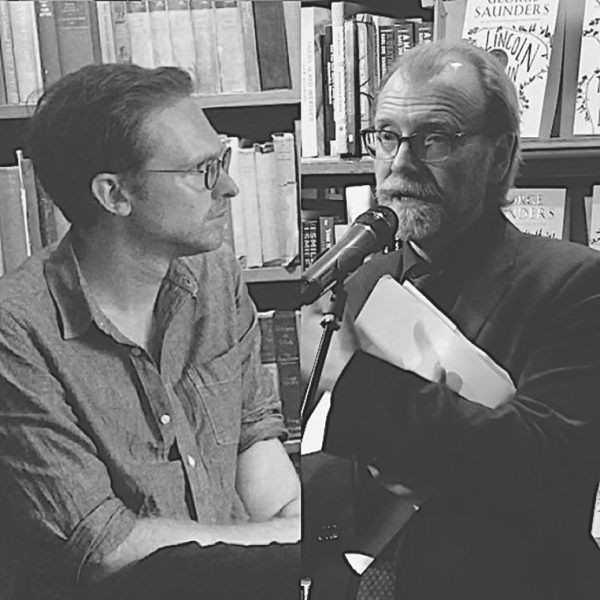 Friends of Shakespeare and Company Read "Ulysses"
To celebrate the one hundred years since Sylvia Beach published James Joyce's Ulysses, we created an ensemble recording of the unabridged text. It was released as a free podcast between the centenary of the book's publication, 2 February 2022, and Bloomsday, 16 June 2022, and featured readings from more than a hundred writers, artists, and other public figures, including Sally Rooney, Margaret Atwood, Stephen Fry, Pete Buttigieg, Kae Tempest, Ben Okri, Eddie Izzard, Joanna Lumley, and many more. You can still listen here.

"Paris in Our View," an Anthology of Poems about the City
The bookshop's publishing projects require significant upfront investment in development, production, and printing. Thanks to FOSC we've been able to maintain our publishing activities and safeguard projects that might otherwise have been stopped due to financial difficulties. The latest of these projects, the poetry anthology "Paris in Our View," will arrive March 2023 and will be available exclusively in the bookshop and on our website, with profits benefiting the Association.

"The Shakespeare and Company Book of Interviews"
This hardback, to be published by Canongate in September 2023, will feature discussions from the bookshop's regular interview series, hosted by Adam Biles, with some of the greatest writers of our time. All sales and royalty revenues will go to the Association.
ABOUT SHAKESPEARE AND COMPANY
Shakespeare and Company is an English-language bookshop in the heart of Paris, opposite Notre-Dame. It has been a meeting place for writers and readers for more than seventy years.
In 1951, Shakespeare and Company was opened by George Whitman on rue de la Bûcherie. It was given its name by Sylvia Beach, who called the shop the "spiritual successor" to her own. Beach's bookstore, on rue de l'Odéon (1919-1941), had been a gathering place for the great expat writers of the time, including Hemingway, Stein, Fitzgerald, Eliot, and Pound. And it was Beach who first published James Joyce's Ulysses, when no one else dared.
George's bookstore quickly became a center for anglophone literary life. James Baldwin, William Burroughs, Anaïs Nin, Allen Ginsberg, Richard Wright, Julio Cortázar, and Henry Miller were early visitors. And—from the first day—writers, artists, and intellectuals were invited to sleep for free among the shelves. Since then, an estimated 30,000 people have stayed in the bookshop. These guests are called Tumbleweeds after the rootless, rolling plants that "drift in and out with the winds of chance," as George described.
Over the years, the shop grew from one long, narrow room on the ground floor to the labyrinth of books and nooks readers know today. George said, "I created this bookstore like a man would write a novel, building each room like a chapter, and I like people to open the door the way they open a book, a book that leads into a magic world in their imaginations."
In 2002, at the age of twenty-one, Sylvia Whitman, George's only child, returned to spend time with her father in his kingdom of books. Not long after, George put her in charge. Today Sylvia continues to own and run the shop, along with her partner (in life and business), David Delannet. Over the past decade, the bookshop has embarked upon several new adventures, including a café, a literary festival, a writing contest, and a publishing arm. Before the pandemic, Shakespeare and Company hosted free weekly events—open to the public and available on the shop's podcast—welcoming writers such as Zadie Smith, Don DeLillo, Carol Ann Duffy, Colson Whitehead, Leïla Slimani, Rachel Cusk, George Saunders, and Jeanette Winterson.
Today George's novel, this bookshop, is still being written—by Sylvia and David, by a dedicated team of booksellers, and by the thousands of people who continue to read, write, and sleep at Shakespeare and Company.
Thank you for supporting Friends of Shakespeare and Company.