At the beginning of 2021, we launched "Friends of Shakespeare and Company," an association to support the bookshop's noncommercial endeavors, including author readings, the writers-in-residence program, the podcast, and our publishing projects. Thank you to everyone who joined!
___

We're still finalizing our plans for Friends of Shakespeare and Company 2022, with hopes of announcing details in early July, both on this website and by email.

If you'd like to join now, in the interim, please email us at friends@shakespeareandcompany.com and we will send you details.
___

For 2021 members: All four of the quarterly installments are now live on our members-only page. They feature contributions from Deborah Levy, George Saunders, Karthika Naïr, Bonnie Greer, Ishion Hutchinson, Clémence Poésy, Molly Crabapple, Olivia Laing, Lauren Elkin, Rob Doyle, Jeanette Winterson, and Natalie Portman. The content from 2021 will remain accessible to members through July 2022.
____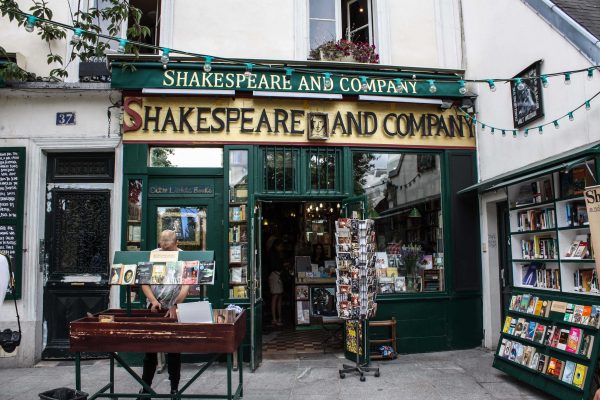 WHY DID WE LAUNCH THIS PROGRAM?
Starting with France's first lockdown in March 2020, the bookshop has been under serious financial pressure. Like other independent booksellers, we made an extra effort to increase website orders. While these sales provided some relief, we knew it was unrealistic to expect an exceptional level of website activity to continue for an unforeseeable number of months.
We knew we had to find a parallel and more reliable way forward for the bookshop. For guidance, we turned to our ever-bright beacon, Sylvia Beach, the founder of the first Shakespeare and Company. During the Great Depression, to secure the future of her shop, Beach established "Friends of Shakespeare and Company." In exchange for an annual fee, participants were invited to members-only readings with T. S. Eliot, André Gide, Paul Valéry, and even Ernest Hemingway, who made an exception to his rule against public events.
Thank you to everyone who joined us in 2021!
ABOUT SHAKESPEARE AND COMPANY
Shakespeare and Company is an English-language bookshop in the heart of Paris, opposite Notre-Dame. It has been a meeting place for writers and readers for almost seventy years.
In 1951, Shakespeare and Company was opened by George Whitman on rue de la Bûcherie. It was given its name by Sylvia Beach, who called the shop the "spiritual successor" to her own. Beach's bookstore, on rue de l'Odéon (1919-1941), had been a gathering place for the great expat writers of the time, including Hemingway, Stein, Fitzgerald, Eliot, and Pound. And it was Beach who first published James Joyce's Ulysses, when no one else dared.
George's bookstore quickly became a center for anglophone literary life. James Baldwin, William Burroughs, Anaïs Nin, Allen Ginsberg, Richard Wright, Julio Cortázar, and Henry Miller were early visitors. And—from the first day—writers, artists, and intellectuals were invited to sleep for free among the shelves. Since then, an estimated 30,000 people have stayed in the bookshop. These guests are called Tumbleweeds after the rootless, rolling plants that "drift in and out with the winds of chance," as George described.

Over the years, the shop grew from one long, narrow room on the ground floor to the labyrinth of books and nooks readers know today. George said, "I created this bookstore like a man would write a novel, building each room like a chapter, and I like people to open the door the way they open a book, a book that leads into a magic world in their imaginations."
In 2002, at the age of twenty-one, Sylvia Whitman, George's only child, returned to spend time with her father in his kingdom of books. Not long after, George put her in charge. Today Sylvia continues to own and run the shop, along with her partner (in life and business), David Delannet. Over the past decade, the bookshop has embarked upon several new adventures, including a café, a literary festival, a writing contest, and a publishing arm. Before the pandemic, Shakespeare and Company hosted free weekly events—open to the public and available on the shop's podcast—welcoming writers such as Zadie Smith, Don DeLillo, Carol Ann Duffy, Colson Whitehead, Leïla Slimani, Rachel Cusk, George Saunders, and Jeanette Winterson.

Today George's novel, this bookshop, is still being written—by Sylvia and David, by a dedicated team of booksellers, and by the thousands of people who continue to read, write, and sleep at Shakespeare and Company. Thank you for considering joining the Friends of Shakespeare and Company.